Lean Six Sigma Yellow Belt Training Course
Course Code:

TGLS006P

Certification:

ONLINE live courses are now available. Yellow Belt certification from Thornley Group is included as part of the course fee. After attending online or classroom-based courses, candidates are eligible for the optional NZOQ or IASSC Yellow Belt certification exam, which can be taken online. NOTE: The IASSC certification exam is closed-book and requires significant personal study. Recertification is required every 3 years (fees apply). The NZOQ certification exam is open-book. NZOQ certification is for life.

Course duration:

2 days of classroom training; or 3 x 2.5 hours of online training, plus 10 hours of additional study.

Overview:

Thornley Group's Yellow Belt course equips candidates to make an immediate start on delivering improvement activities in their businesses. The course provides the knowledge you need to carry out improvements in a structured and measurable way. The online version of this course includes a further 10 hours of study, including lesson reviews, the completion of problem worksheets and knowledge-retention quizzes.

TGLS006 lean six sigma yellow belt training
Cost
From $670 plus GST
All major credit cards accepted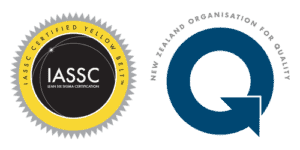 Lean and Six Sigma are business improvement tools that are designed to deliver your goals and objectives more effectively. Lean Six Sigma adopts a customer-centric focus that ensures companies can deliver benefits quickly, improving their overall performance and profitability. The Yellow Belt Course equips attendees to get started on process improvement activities right away by taking a structured and measurable approach to all projects.
Thornley Group Yellow Belt training is administered by professional trainers who have significant experience as senior management and Lean Six Sigma practitioners. Upon completion of your training, you will have a detailed understanding of the principles involved in Lean and Six Sigma, as well as the information you need to apply these tools effectively.
Prior to taking the NZOQ or IASSC exams, an additional 10 hours of study is required using your course manual and our online testing. Our online testing facility enables you to study all subject areas carefully right up to your exam date. We also provide access to our online video-based program that provides a further 16 hours of study beyond your course attendance.
Lean & Six Sigma training at your office
Thornley Group designs its training programs to suit all levels of a business, from the newest staff to senior managers and executives. We provide courses that cover everything from basic awareness to specialised training courses that have been tailored to your business. Our courses are a fun and engaging learning experience designed to give measurable results. Where desired, content can be tailored to your business and presented with your own branding. Training can either be conducted online, on-site at your business or in one of our approved venues.
Take the first step to improving your business performance
Improving the way your business performs is a journey of many steps. The first is to make a commitment to changing the way you do things. Organisations that adopt Lean Six Sigma approaches across their activities consistently perform more efficiently and effectively while eliminating unnecessary waste. This provides measurable cost, quality and product improvements that help businesses to achieve greater customer satisfaction and marketplace competitiveness.
Contact us to find out how we can help you with our training and consultancy services.
How can we help?
Thornley Group specialises in training and consultancy services that are designed to help organisations set strategies and deploy business process improvement in a sustainable way. We ensure all course candidates are equipped with the know-how they need to make sustainable, long-term changes to their businesses that will continue to realise benefits for years to come.
Training key members of your organisation in process improvement methods is a practical step you can take towards becoming a high-performing business. Along the way, Thornley Group can provide all the support you need to set the right strategies and successfully deploy them.
Course manual
Thornley Group certification exam included
Online practice exam
6 months email support for project work
Access to our supplementary online Lean training
Online resources and templates
NZOQ or IASSC exam optional
Lean Six Sigma Yellow Belt training from Thornley Group provides a broad overview of Lean Six Sigma tools, methods and benefits to businesses. Attendees are prepared for the task of operating as part of a Lean Six Sigma environment and for implementing Lean Six Sigma projects. The course includes an in-depth look at the DMAIC principles of Six Sigma and how they can be applied to your business.  Our Yellow Belt training is aimed at organisational members who spend time involved in process improvement. This could be as a process owner, a member of a team or even as a project manager.
Making use of their practical Lean Six Sigma experience, as well as simulation exercises, Thornley Group trainers take attendees through the process of applying the tools and techniques that are included as part of the Yellow Belt training course.
Introduction to Lean Six Sigma
Why organisational waste and variation undermine the effectiveness
Maximising performance by focusing on customers
The expense of poor quality and the case for applying Lean Six Sigma
Harnessing the power of teams
Developing the Project Team Charter
Best practice ways to improve team performance
The Define Phase – Correctly defining business issues and problems
Detailing the scope and objectives of projects and relating to the 'Voice of the Customer'
Aligning Six Sigma projects with strategic objectives
Using process mapping to understand business processes
The Measure Phase – Managing by fact
Understanding different data types and how to measure them effectively
Brainstorming
Affinity Diagrams
Value Stream Mapping
Integrated Flow Charting
SIPOC
Using cause and effect and FMEA to prioritise process issues
Collecting and analysing business information using statistical concepts
Calculating the process sigma
The Analyse Phase – Identifying root causes through analytical methods
Using the 5-Whys
Focusing the problem through Pareto
The Improve Phase – Making improvements and delivering the benefits
Identifying solutions in a structured way using data and creativity
Managing change and selecting the correct solutions
Implementing 5S
Reducing Lead Times and Cycle Times
Increasing Performance and Customer Satisfaction
The Control Phase – Controlling the process and sustaining the benefits
Mistake proofing using 'Poka Yoke' methods
Understanding how to construct and use control charts
Sustaining improvements
Introduction to Lean Six Sigma
Harnessing the power of teams
The Define Phase - Correctly defining business issues and problems
The Measure Phase - Managing by fact
The Analyse Phase - Identifying root-causes though analytical methods
The Improve Phase - Making Improvements and delivering the benefits
The Control Phase - Controlling the process and sustaining the benefits
There are no prerequisites for this course.