Lean Six Sigma Green Belt Training Course
Course Code:

TGLSAU003P

Certification:

ONLINE live courses are now available. Thornley Group Green Belt certification is included in the course fee. Candidates who attend either our online or classroom-based courses will be eligible to take the optional NZOQ or IASSC Green Belt certification exam online. NOTE: The IASSC certification exam is closed-book and requires significant personal study. Recertification is required every 3 years (fees apply). The NZOQ certification exam is open-book and candidates must complete a simulation case-study (provided) or complete a work-based project. NZOQ certification is for life.

Course duration:

5 days of classroom study; or 8 x 2.5 hours of online courses, plus 20 hours of personal study through videos, worksheets and quizzes.

Overview:

Green Belt training courses from Thornley Group are designed to provide candidates with an extensive grounding in Lean Six Sigma Principles. The course covers Lean tools and techniques, project set-up, DMAIC and all associated tools and principles in great detail. If you choose to study online, an additional 20 hours of personal study is required.

TGLS003 lean six sigma green belt training
Cost
From $1,700 plus GST
All major credit cards accepted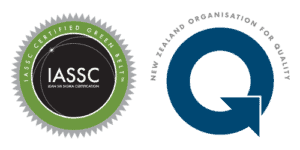 Developed by the manufacturing industry, Lean and Six Sigma are process improvement tools designed to help businesses deliver their goals. Combining the two methodologies allows businesses to eliminate waste, increase product value and reduce variation. By taking a customer-centric approach to business, Lean Six Sigma delivers rapid improvements in quality, performance, profitability and competitiveness.
Thornley Group's Lean Six Sigma Green Belt course is administered by trainers who hold extensive experience as Lean Six Sigma practitioners and senior business managers. Once candidates have completed the training course, they will be equipped with a detailed understanding of Lean Six Sigma and how to apply the principles to deliver structured and significant benefits to a business.
Candidates who complete our course will be eligible to take the NZOQ or IASSC Green Belt Exam online. To prepare for the exam, there is an additional 25 hours of study using your course manual and Thornley Group's online testing material. Course attendance also includes access to our online video-based training that provides a further 16 hours of personal study.
Already hold a Yellow Belt certification? Upgrade to a Green Belt in only 3 days. Click here for details.
Lean Six Sigma Training at Your Office
The Thornley Group Green Belt course is designed to be approachable for all levels of an organisation, from the shop floor to the boardroom. Our courses are effective and engaging, delivering measurable results for our candidates and their organisations. Upon request, Thornley Group can tailor our courses to your organisation and deliver them with your own corporate branding.
Training can be conducted on-site at your office or at one of our approved venues.
Improving business performance involves many steps.
The first step to process improvement is making the commitment to changing the way you do business. Organisations that adopt Lean Six Sigma perform far more effectively with the ability to eliminate unnecessary waste. The result is businesses seeing the significant cost, quality and delivery improvements that feed into greater competitiveness and improved customer satisfaction.
How can we help?
Thornley Group Green Belt training is the tool organisations need to improve the way they set strategies and deploy business improvement projects. We ensure that each candidate completes our course with the know-how they need to implement sustainable improvements and assist their organisation to realise the long-term benefits of our training.
Training key business personnel in process improvement is an excellent step towards improving organisational performance. Thornley Group provides all the support candidates need to successfully set and deploy their strategies.
Speak to our training consultants today.
Course Manual
Thornley Group exam fee included
Online practice exam
6 months support for project work (26 hours of email and phone-based support)
Access to our supplementary online Lean training
Online resources and templates
NZOQ or IASSC exam optional
The Thornley Group Lean Six Sigma Green Belt Course covers all Lean Six Sigma principles in detail. The training programme includes all Lean tools and techniques, as well as their benefits to the business. Candidates study the central DMAIC principles in depth, combining them with education on project set-up and statistical tools and techniques to deliver successful process improvements. Thornley Group Green Belt training is aimed at professionals who spend a significant amount of time involved in business improvement. Green Belts are often process owners, team members or even team leaders. Following Green Belt training, you can be upgraded to a Black Belt certification with only a further 5 days of training.
Our trainers use their practical experience with Lean Six Sigma projects to take candidates through the process of applying the tools and techniques they learn as part of the Green Belt course.
Examinations
Candidates who complete the Thornley Group Green Belt course are eligible to take the NZOQ or IASSC Green Belt exam. It is also recommended that candidates participate in an improvement project that delivers cost savings, reduces production defects or improves customer satisfaction. Thornley Group provides email support for 6 months after completion of the Green Belt course to help candidates achieve their projects.
Course Content
Examinations
Candidates must have basic numeracy skills (See the maths qualifier test on our resources page).
Ideally, candidates should have the authority to work on a project in their organisation. Applying the knowledge gained from the Green Belt course will cement the lessons and improve credibility. The project should be cost-saving, defect reduction or have other customer impacts. We will provide a simulation case study where a real project is not possible.